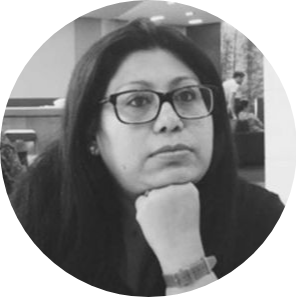 Ph.D. (University of Delhi)
Research Interests: Politics of Life, Aftermaths of Violence and Crisis, Humanitarianisms and related international law, Urban Studies, Visuality and Films, Theory and Method in Anthropology/Sociology.
Yasmeen Arif, M.A., M.Phil., PhD (University of Delhi) is Associate Professor in Sociology. Her doctoral work has been about post-war recovery in Beirut, Lebanon. Her recent book Life, Emergent: The Social in the Afterlives of Violence (2016, University of Minnesota Press) explores a politics of life across multiple global conditions of mass violence. A second forthcoming manuscript, The Unusual Urban: Cities in Conversation compiles her work on cities. Her current writing is about a bio-political critique of identity politics. Other research areas include humanitarianisms, science and technology studies, money, visual and material cultures, theory, philosophy and epistemology in social anthropology/sociology. She has held positions at the University of Minnesota (Twin Cities); The Graduate Institute, Geneva; CSDS, Delhi and the American University of Beirut; Lebanon. Her work has been supported by the Mellon Foundation, the Ford Foundation, the Fulbright-Nehru Scholarship, among others. She has published her work in several international journals and other volumes. Dr. Arif resigned from the Department in December 2020.